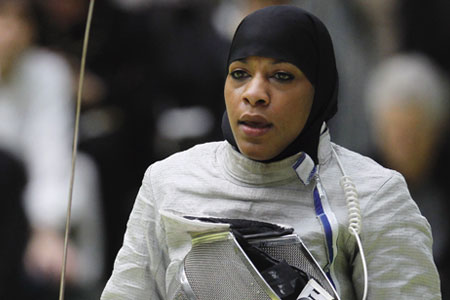 Unfoiled by Stereotypes
Issue 85 October 2011
Ibtihaj Muhammad started fencing because it catered for her modest style of dress. Now, she stands at the edge of participating at the 2012 Olympics. Ali Khimji talks to her about what it takes to perform at the highest sporting level.
Fencing has always been perceived as a sport for the more privileged amongst society. But as an African-American, Muslim, female fencer, Ibtihaj Muhammad is challenging that norm. Undoubtedly due to represent the US at the 2012 Olympic Games, Ibtihaj excelled at the sport at an inner-city foundation, which seeks to mentor youth through sports.
"I played many sports when I was younger, including tennis, softball, and volleyball. My mother then discovered that our local high school had a fencing team. I joined the team when I was 13, grateful to find a sport where, as a Muslim woman, my desire to dress modestly would be fulfilled. Also, for the first time in any sport I had played, I would wear the same uniform as my teammates."
Modern fencing evolved out of formalised sword duels and the French school of fencing in the 18th century. Fencers are categorised by the weapon that they use. The foil is a light and flexible weapon, and the target area is restricted to the opponent's torso. The epee, another type of sword, was invented by a group of French students in the 19th century, who felt that the conventions of foil were too restrictive and that the weapon was too light. They wanted something closer to an actual duel. The epee is an exact copy of a small sword, and points are recorded for hits anywhere on the opponent's body. However, touches are only scored when the point of the foil or epee hit the target areas. The sabre can score points by hitting with the edge, as well as the point, and the target area covers the whole upper body.
"For the first three years, I fenced epee. I had always been a good athlete, so naturally I was a decent epee fencer. When our fencing team had an opening on the sabre squad, my high school coach, Frank Mustilli, decided I would switch to sabre. I was reluctant at first, but in hindsight, I can say that switching to sabre was one of the best athletic decisions I have ever made. Without Frank practically forcing me into sabre, I don't believe that I would still be fencing — certainly not at this advanced level."
"Sabre is a lot more fast-paced than the other weapons. It is also a right of way weapon, which means that the fencer must take certain actions to score a point. It's also a challenge because it requires agility, quick footwork and strategy."
Ibtihaj went on to captain her high school fencing team and led them to win two New Jersey state team titles. She then enrolled at Duke University, where she graduated in 2007 with a double major in International Relations and African studies, and a minor in Arabic. However, her fencing ambitions did take a stumble during her studies. "Being a student athlete at a prestigious university was no easy feat; balancing athletics, academics and a social life was tough. I also struggled to fit in with the rest of the fencing team, as they were much less competitive than me, and average in their fencing ability."
After graduating and moving back to New York City, Ibtihaj began training with Olympian and fellow graduate of the Peter Westbrook Foundation, Akhi Spencer-El. "Akhi has always believed in my athletic ability, and has helped me push my fencing to the next level. He is training me to fence tactically, infinitely improving my overall approach."
Akhi's training paid off, when in 2009, Ibtihaj won the US national title. A year later, she reached the quarter-finals of a World Cup event and then finished 14th in her world championship debut. Ibtihaj is currently ranked 13th in the world, and second in the United States. Only two women will compete in the sabre event at the 2012 London Olympics, and Ibtihaj has made a strong case to be included in that elite group.
As with any prospective Olympian, Ibtihaj has a strict training regime. She trains five to six times each week, often twice a day. Mornings are reserved for running or time with a personal trainer to work on her fitness, and evenings are spent working on her fencing skills.
Islam also plays a significant role in Ibtihaj's life. "I have found Muslims in every city that fencing has brought me to. Whenever I travel, performing prayers is a way for me to keep up my remembrance of God, as well as keeping me grounded."
"As an athlete, I have always found my most challenging opponent to be myself. Competitions are often lost from losing mental focus. I also constantly remind myself that I am able to handle anything that comes my way. I believe in the saying, 'impossible is nothing'."
Ibtihaj Muhammad has risen above the stereotypes of her chosen sport, and now has the opportunity to fence at the highest level possible. There is no doubt that with her level of dedication and hard work, she is sure to succeed on the global stage and fully embrace the opportunity to make history by being the first practising Muslim woman to represent the United States at the Olympics. "I want to prove that nothing should hinder our Muslim youth from reaching their goals – not race, religion or gender. I want to set an example that anything is possible with perseverance."
Share this


Link to this
Printer Friendly