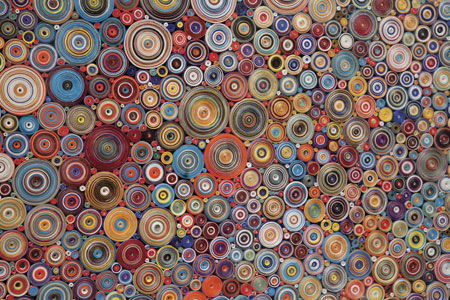 The Jameel Prize
Issue 85 October 2011
Last month saw the Victoria and Albert Museum play host to The Jameel Prize; providing a platform for artists and designers inspired by Islamic art and culture. Fatema Zehra profiles a selection of artists shortlisted for this unique international prize.
Awarded every two years, The Jameel Prize is a £25,000 international art prize, first initiated in 2009. The prize showcases contemporary artists and designers inspired by Islamic art, craft and design. Hosted by the Victoria and Albert Museum in London, it aims to explore the relationship between Islamic traditions of art, craft and design and contemporary work, as part of a wider debate concerning Islamic culture and its role today. This year, the works on show ranged in style and medium, from sculptures made from hand-made terracotta bricks and mirror mosaics, to felt costumes and digital collages, inspired by traditional Persian miniature paintings. The Jameel Prize can be credited for contributing to a broader understanding of Islamic culture and its place in the world. "It is a very exciting time for artists working in Islamic art tradition—there is a real spirit of innovation and creativity in the air," said award- winning architect and Patron of the Jameel Prize, Zaha Hadid.
This much is clearly evident from the work on offer—with artists pushing the boundaries of conventional mediums and techniques. The artwork goes beyond established painting, sculpture and calligraphy, using various mediums that stem from traditional work to explore and reflect the diverse cultures and histories of their respective regions. Whilst all the artists can be noted to extend the use of traditional methods, they unmistakably pay homage to their respective culturally rich traditions and timeless history. The key to their individuality is the evolved use of techniques to combine old and new, often allowing for a deeper comment on modern day life within cultural restrictions. On a more practical level, Zaha Hadid suggests, "the Islamic arts and sciences have bridged the cultural divide between East and West, teaching us that these worlds are not mutually exclusive, but rather layered upon each other and profoundly interlinked." It is with this message that the Jameel Prize presents a promising outlook to the representation of Islamic culture and the various regions associated.
Take Iranian born Hadieh Shafie, who migrated to the United States in 1983. Shafie works using a variety of mediums, but a consistent theme in her art is the use of repetition. To create her scroll pieces, Shafie marks strips of paper with handwritten and printed Farsi text, and rolls them in concentric circles. Elsewhere, she repeats the Farsi word for love, 'eshghe', to create diverse aesthetic results. Shafie draws from her various experiences, such as the expression of her reverence via the repetition of centric forms of text and material, which takes direct inspiration from the act of turning on an axis used in the Sama dance of whirling dervishes. The time it takes to make each piece can vary and the time spent in writing and rolling the strips of paper is an important part of the artistic process. The title of each piece documents the number of individual strips of paper that complete thework. With her art, Shafie "hopes to provide an opportunity for contemplation", whilst using traditional materials to create pieces that will stand the test of time, and introduce new modes of thinking and seeing.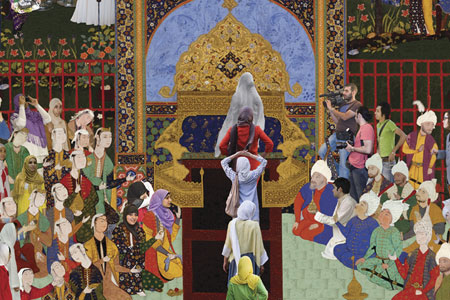 Similarly, the youngest shortlisted artist, Noor Ali Chagani, translates his training in the principles of Mughal miniature painting, into sculpture by using miniature handmade terracotta bricks to imitate large building blocks. Chagani's use of bricks is a symbolic take on the contemporary world, commenting on the physical and emotional labour that is used to build a brick wall — representing the need for security and protection, whilst also working as a reminder of the partitions we build between one another through walls. The two pieces, although similar in form, vary in purpose — the curves and movements of the bricks in 'Lifeline' are like a piece of cloth serving as protection and shelter. As they provide a second skin, they also represent the toughness and hardships of life's daily struggle through the use of brittle and hard bricks. 'Infinity' is his interpretation of history— the bricks representing an endless series of walls, which according to Chagani, represent the broken walls and homes of an ancient civilisation, and the endless hurdles and obstacles faced by man.
With the use of a more contemporary medium, photographer Soody Sharifi's work is inspired by photographing the streets of Iran on foot. Sharifi deals primarily with the paradoxes and contradictions inherent in living between two cultures. She explores the notion of identity and the result of two cultures meeting. Sharifi creates digital collages using enlarged scans of original Persian miniatures, in which she inserts her own photographic images, creating what she calls 'Maxiatures'. Sharifi's pieces make an unapologetic and frank comment on the clash of culture and religion, as well as modernity and youth culture. She aims to reflect on the dialogue between East and West, whilst opening up the often private and underground world of contemporary Iranian culture. Notably, her pieces take this line between the public perception and hidden mystique of private life — going further to blur the line between reality and fiction. Sharifi found contemporary Islamic life in Iran 'curious and chaotic', a continuous conflict between old and new, tradition and modernity. She notes that 'Western media easily overlooks this world, since their focus has often been on the political'. Sharifi hopes to draw in those who aren't Muslim to question some of these social and cultural issues. And in the process of looking at the detail of these images, she hopes 'they enter into an Islamic world, which to some extent, is closer to modern culture than the pre-conceived notions of Islam'. The humour carefully interlaced in each piece carries a personal narrative that extends to a clear remark on contemporary Iranian culture. Although each piece is presented in a fictional form, they seem to come closer to reality than, in Sharifi's words, 'the narrow focus of the media'.
To see more of our Interior feature, as well as gain access to exclusive videos, plus behind the scenes footage and more interactive content, log on to http://digital.emel.com to get your digital issue today.
Share this


Link to this
Printer Friendly