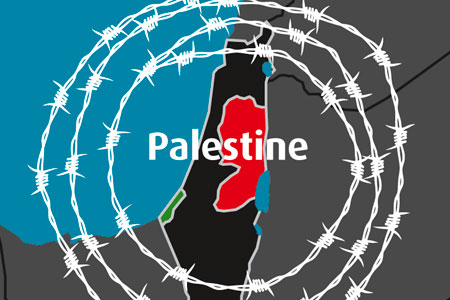 The Rights of the Oppressed
Issue 87 December 2011
Palestine can be considered as the global symbol of oppression.

On Fridays in mosques around the world, supplicants raise their hands in prayer for their Muslim brethren in difficulty. Invariably, Falasteen is the first name to be mentioned. And no wonder, for the oppression the Palestinians suffer is great. Every day, they are corralled into a small patch of land, their movement restricted, their children missing pencils in school as the lead in them is considered a threat by the Israelis, their houses unable to be built as Israel forbids the importation of concrete as a terrorist threat, their water flow subject to Israeli whim, their own beautiful white sandy coastline unable to be opened for tourism as the Israelis forbid it, their livelihood mercilessly subject to the will of others.

I have stood on the golden shores of Palestine and looked out towards Europe, wondering why Palestine has been abandoned. But I have also stood in Muslim-majority countries, where people decry the terrible plight of the Palestinians and at the same time accept as normal the prejudice meted out to those who live there. The irony that they talk a good talk as long as they are not required to do anything is lost on them.

I have stood at the border between the state of Israel and Gaza, been waived through by the Israeli authorities courtesy of my passport. But just a few metres away, the local Palestinians are herded like animals through high-rise fences of meshed wire, queuing achingly slowly to pass through the border. Read More.
Shelina is the author of Love in a Headscarf, and writes a blog at www.spirit21.co.uk
Get your digital copy of emel today. With exclusive videos, behind the scenes footage, animation, and much more, the digital edition is the perfect way to read your favourite magazine whenever and wherever you want. Get your digital edition now!
Share this


Link to this
Printer Friendly