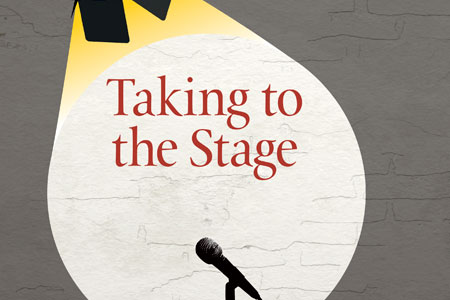 Taking to the Stage
Issue 93 June 2012
Most people are aware of the rich historical traditions of Islam, but Ali Khimji meets some modern Muslim performance artists who are keeping the practice going.
Khayaal Theatre Company
While some would mark theatre as a pastime of the upper echelons of society, Luqman Ali, Artistic Director of the Khayaal Theatre Company, would argue that the identity, narratives, morals and worldview of Britain were shaped by theatre, and continue to be informed by it today. "Alongside the church and the pub, theatre is one of the most important socio-cultural institutions in this country," he says. "And where Muslims are concerned, it is the most accessible of the three. Moreover, the very first popular conceptions of Muslims were projected from the stage in the 16th and 17th centuries and these conceptions continue to exert a deep, subliminal and often polarising influence on cultural relations. By dramatically representing inclusive story from Muslim literature within the rich aesthetic of Islamic art on the stage, we work to exemplify the understanding, synthesis and integration that we hope will generate new and globally relevant cultural synergy and capital for our society and world."
The MUJU Crew
Put a group of young Muslims and Jews together in a room, and you might expect an argument over territory to erupt. However, some young Muslims and Jews decided to launch a theatre group, after being brought together by One to One Children's Trust and The Pears Foundation, at a project hosted by The Tricycle Theatre in 2004. Many Muslims are aware of the rich theatrical traditions in Islam, but some might not know that Judaism shares this too. "Singing and play are significant parts of Jewish tradition; festivals like Purim celebrate storytelling and it's encouraged for communities to dress up and illustrate the stories of the festival," says Georgina Bednar, Artistic Director at MUJU.
Azeem Ismail
Azeem Ismail doesn't see himself as a poet, rapper or performer. As far as he is concerned, his role is to inspire an audience. "My favourite part about performing is having the power to change the energy of the crowd. My messages are powerful, but always positive, and I firmly believe music heals. And that feels good to do to people." Read More
Arakan Creative
Driven by a lack of frustration at the roles he was being offered on screen, Conor Ibrahiem set out to redress the balance. "As an actor, I found the opportunities available for actors such as myself were usually corner shop owners, taxi drivers, and terrorists," he says. "I thought Muslims were more than this, so why has no one taken the reins on this?" In the end, it was down to Conor to combine his passion for the arts, along with his growing passion for Islam, and launch Arakan Creative, a theatre company based in Bradford. Read More
Avaes Mohammad
Many people talk about the common ground between science and art, and Avaes Mohammad seems to be standing right in the middle of it. Not only is he a poet, performer and playwright, he also has a doctorate in analytical chemistry. Staying true to this unique position, he even uses the chemistry term 'organic' to describe his development from performance poet to playwright.

Growing up in Blackburn and attending university in Manchester, Avaes began writing poetry in direct response to the Oldham riots that took place in 2001. "There was this new wave of anti-Asian, anti-Muslim hysteria within the media, before 9/11, and it was just something I was noticing; the demonisation of the community to which I belong," he says. "I felt there needed to be a positive representation of my community, and I felt I wanted to do that, so I chose poetry as a means of doing that. By the end of the summer, 9/11 happened and that only further heightened my resolve of choosing to represent my experience and people who I share those experiences, and my identity with." Read More
Rohina Malik
Just like many other playwrights, Rohina Malik's first play was based on her own personal experiences. Having grown up in London and moving to America in her teenage years, she was quite taken aback by the backlash after 9/11 against the Muslim community. "It was really frightening, because people were murdered, and harassed, and spat at," she says. "I remember at one point, everybody had a story, whether they were male, female, Muslim, Sikh, Hindu, Latino, and they would range from silly to bone-chilling."

The writer part of her began to collect these stories together, with the aim of putting them together as a theatrical production, but her debut play Unveiled came to life when she started to write about an incident that happened to her. She was at her best friend's wedding, and there were two weddings taking place at the banqueting hall. She walked past one of the guests at the other American wedding, who had a very strong reaction to her Muslim identity, and began swearing at her in front of her children. "When I started writing Unveiled, I began with that story," she says. "But to give myself some distance from the character, I created this character of a Pakistani dressmaker on Devon Avenue, which is the Desi area of Chicago. I had her telling the story, which made it easier for me to perform that story night after night." Read More

Share this


Link to this
Printer Friendly