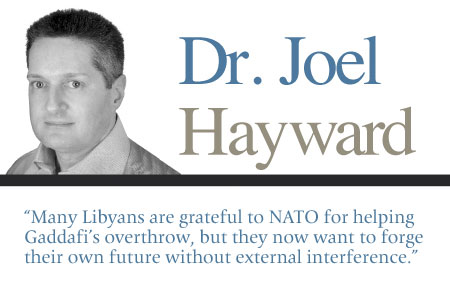 With the dramatic overthrow of another Middle East dictator, foreign nations should support, not intrude in Libyan...
The scandals linked to NoTW raise questions pertaining to truth, objectivity and bias. My favourite journalist is Robert Fisk, not because I always agree with him (...
The UK riots caused the untimely death of three young men. Dr Joel Hayward takes heed of the wise words of Tariq Jahan, father of 21-year-old Haroon Jahan. The...
The revised Prevent strategy has strengths but also a few concerning aspects.The revised Prevent counter-terrorism strategy is the culmination of a review initiated...
Bin Laden's death will not reduce terror threats, but a more positive western engagement with the Muslim world would. President Obama trumpeted Osama bin...
The West runs the risks of its good intentions (and inconsistencies) leading to distrust. When the governments of Tunisia and Egypt succumbed to popular pressure,...
So long as no laws are broken, even the ugliest of views have a right to be expressed. I do not like the English Defence League (EDL). It is motivated by hatred...
Pushing for too much too soon brings its own set of unprecedented risks. When Tunisia's dictatorial government collapsed and its leader fled, I felt both...
The latest WikiLeaks revelations are mainly the gossip and hearsay of diplomats. In November 2010, the WikiLeaks "whistle-blowing" organisation began...
The reforms being initiated by King Abdullah of Saudi Arabia are based on Islamic values and should be warmly...
Dr Joel Hayward
Dr Joel Hayward is Dean of the Royal Air Force School, author and poet.