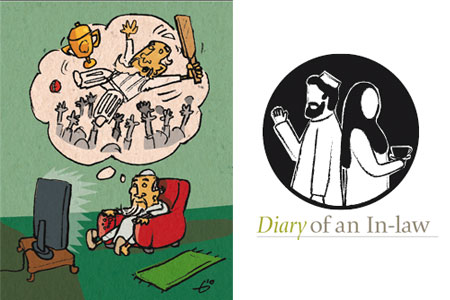 Diary of an In-law - Boundaries
Issue 72 September 2010
Dada, my father in law's father, is one of a kind. He acts on what he feels – no less, no more.

I recall a particular Eid that he decided to spend with us. Dada had a happy go lucky attitude to life and that's what made everything about him fun but some found his sense of humour rather unsettling. It so happened that mum's niece Maria was also visiting from Toronto at the same time. Maria was very familiar with her mum's in-laws and had frequently visited her over the years but this was her first visit with her baby boy. The last few days of Ramadan were busy keeping up with Dada's specific dietary requirements – he liked hot porridge for suhoor, followed by a paratha but this porridge had to be home-made. He didn't do the Tesco watermix; we tried that with him once and he spat it out like we'd put a spoon of hot chilli powder down his throat!
The cricket test matches were also running between England and Pakistan at the time and Dada's routine was fixed around the TV set the entire Ramadan and of course the prayer mat at intervals. He was a die-hard cricket fan and no one could tell him any better about the game or he would take offence.
We had prepared a lot for Eid considering Dada's conventional expectations of a table feast. Mum was excited about seeing her favourite niece and her baby and began cooking a day earlier.
Since we hadn't had a baby in the house for a long time, it was such a delight to see little Ayaan. He had an adorable face; podgy and round, a milky complexion, drooping rosy pink cheeks and big brown owl-like eyes - enough to melt anyone's heart. Dada was very drawn towards Ayaan… well, at least it appeared that way. He was engrossed in the match even on Eid, though he watched baby Ayaan secretly and smiled as the 16 month old entertained us. Maria was trying to teach Ayaan to say 'salaam' but he hadn't quite yet grasped the verbal skills. Then out of the blue he managed to repeat his mum's words and said 'dada' and said it with a loving twinkle in his eyes. Dada's feeling of being overwhelmed transpired from his pocket and out jumped a hundred pounds for Ayaan, "this is your Eidi beta."
"No, no," protested Maria. "This is too much, Dada." "Not another word. I won't hear it. It is tradition that we give money to the new baby in the family when we see the child for the first time and because it's Eid today, he gets double." Dada insisted that baby Ayaan deserved the money and it was a token of blessings from elders.
It was all very sweet with Maria telling me how Mum's in-laws always make her feel so much part of the family. It was the third time she had met Dada but she felt that with time, he had become increasingly warm towards her.
As the evening progressed, the cricket match became intense, leaving Dada at the edge of his seat cheering Pakistan. Maria was also a fair cricket spectator so she hovered towards the TV while Ayaan was kept occupied by mum. "There's no hope for them to win this year," professed Maria. "They're performance has been appalling throughout. England has a good chance of winning the game." As Maria shared her thoughts with Dada, who strongly believed in team spirit and patriotism, he sat glaring at her intently. Politely he said, "You want to bet on it…Pakistan will win this round…?" Maria thinking this would be a good bonding moment for them, decided to go along with it. "Okay Dada. I bet you anything they will lose."
"Done." Dada accepted the challenge as he was one of the players in the match. The final hour into the game – Pakistan won. Maria smiled, accepting her defeat but that wasn't quite enough. "Beta, you've lost over a hundred pounds."
"Sorry Dada?" Maria asked confused.
"Yes. You can't take a bet for free - you lost a hundred pounds so hand it over," he retorted. A little bewildered, Maria handed over the hundred pounds that Dada had gifted Ayaan. She obviously thought like the rest of us that Dada was pulling her leg. We waited for Ayaan's Eidi to be returned but there was nothing said about it. As it was time to leave, Maria said her goodbyes to everyone including Dada but left the house without the Eidi. We learnt that day that cricket is serious business!
Illustration - Grischa Heyer
Words - Kiren Khwaja
Share this


Link to this
Printer Friendly