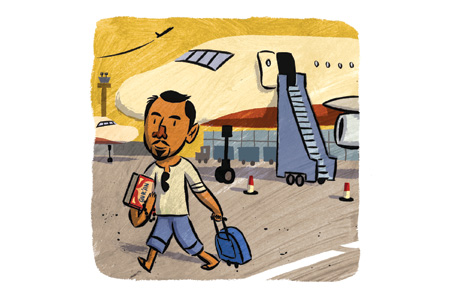 Iftar in Malmo
Issue 60 September 2009
"Swedish Muslim leaders should exert their civil rights as citizens, take account of their politicians and show more courage to lead the community." It was Ramadan and I had received an iftar invitation from the Mayor of Malmo in Sweden, home to the largest Muslim population in the country numbering more than 30,000 Muslims. I was asked to be the key note speaker where Muslim leaders of Malmo and the Mayor of Malmo were putting together their first ever iftar. Local dignitaries including community leaders and politicians were all present. After formal speeches, 20 minutes before iftar time, the food and drink arrived and within ten minutes it was all consumed by the hungry crowd.
When it was time to break our fast, the Muslim guests looked on in confusion as they realised there was nothing left to eat or drink– aside from wine and leftover scraps. I was saddened to see that the Muslim leaders from Malmo were not prepared to kick up a fuss and seemed happy to let it pass, but I was not having any of it. I looked around in search of an ally in my protest and found a British MP I recognised in the audience. I went up to her and explained the situation. Equally shocked, she accompanied me to speak to the Mayor. I said, "I am your guest and there are other Muslims in the gathering too. We have been fasting the whole day and in this iftar gathering we have no food. We are also shocked that there is only wine on the table." He looked at me quizzically and said, "I do not understand what the problem is?" "The problem is", I retorted, "it is Ramadan; we have been fasting the whole day, we do not drink alcohol because of our religious beliefs. In a gathering that is marking an Islamic practice, alcohol should never have been served."
The Mayor pointed to a gentleman and said, "He is my Muslim advisor and never mentioned this." We all looked at the Muslim advisor who was holding a glass of wine. The British MP and I exchanged glances. She said diplomatically, "Maybe he forgot, Mr Mayor. But perhaps we could get some of the British Embassy staff to arrange some food for our guests". He took this as an insult and retorted "No, if my guests are hungry I myself will arrange food for them, but I don't understand why the British guests are making a fuss when the Swedish Muslim leaders are not complaining?" The MP replied, "Ajmal is British, he feels British and knows that his elected Mayor's office would make every effort to be sensitive to his religious needs. If ever there was any failure, he also knows how to bring the Mayor to task!"
Our stern conversation was drawing a small crowd. A Swedish Minister nearby decided to join in on the debate. She said, "Well, when you are in Sweden you should embrace Swedish customs. We are a culturally sensitive nation and we respect people's rights to practice their faith. It is rude of the British guests to protest in this manner!" I replied, "Precisely because of this attitude, those Swedish Muslim leaders are afraid to come forward and protest. They are not given the respect they deserve, they are marginalised and I believe your attitude demonstrates that they are not even accepted as equal citizens in Sweden." There was a subtle nod of agreement from the British MP but she was extremely careful to maintain her diplomatic protocol.
The Mayor and the Swedish MP were lost for words when the British MP saved the day by saying, "Let us arrange some food for these hungry people". At the same time, I felt sorry and angry for the Muslims present. I was sorry to see them suffer after a long day of fasting but I was angry for their submissiveness, allowing their elected politicians to get away with blatant discrimination. I wanted to lambast the minister and Mayor and more importantly, his Muslim advisor. I walked over to the Muslim leaders demanding to know why they were behaving so meekly. They should exert their civil rights as citizens and take account of their politicians.
As Swedish Muslim leaders they needed to show more courage to lead the community. Sweden is a beautiful country; a leading nation in building peace around the world. In my experience however, the Muslims' inability to engage and integrate lies not only at the heart of discrimination and prejudice, but also in their own submissive nature. It was thoroughly disappointing. I should hope that this incident proves to be a learning curve amongst the Muslim community in Sweden as well as universally. As well as being Muslims, we are full-fledged citizens of our respective national origins and should never hesitate to defend our civil as well as basic human rights
Share this


Link to this
Printer Friendly